ACCESS® has some New applications for their Tow Flaps and a New FINISH on the ROCKSTAR™ Full Width Tow Flaps!!!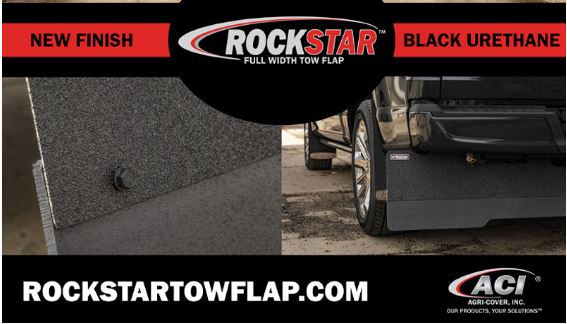 ROCKSTAR™ FULL WIDTH TOW FLAP
MODEL SPECIFIC CUSTOM DESIGN
ROCKSTAR™ Full Width Tow Flaps are seriously stylish and tremendously tough.  Manufactured with durable materials, the rustproof aluminum and 5/16″ rubber protect your vehicle in all conditions.  Our unique rubber attaches to a black urethane coated aluminum frame.  Lightweight and easy to store when not using to save on fuel.  A simple to use design ensures you can adapt to changing conditions without the need for tools or extra hardware.  Stop gravel along with other road debris from ruining a fun weekend.  ROCKSTAR™ Full Width Tow Flaps offer exceptional protection.
Recommended mud flap ground clearance is 6 – 8″ and suggested clearance with a load is 3″ minimum to prevent mud flaps from dragging.  Designed to fit OEM receivers and bumpers, may not fit aftermarket products.  Not compatible with deployable bed step.
For more details on Features and Product and Install Videos on ROCKSTAR™ Tow Flaps, CLICK HERE!
AND DON'T FORGET TO SUBMIT ALL YOUR INFO FOR THE APRIL 2022 PROMO CASH CARDS.  SEE THE ARTICLE WITH DETAILS ON THE NEWS PAGE!!!