Let's start the new year off right with a January 2020 PROMO from ACCESS® Covers!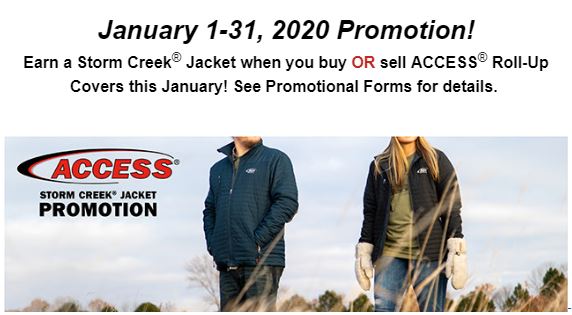 PROMOTION RULES:
Proof of performance required, all Invoices must show only one type of transaction;
Copies of qualifying Invoices and Redemption Form must be submitted by February 15, 2020 to be considered;
Submissions can be Emailed to: AUTOPROMOS@AGRICOVER.COM; Faxed to: 701-251-1512; or Uploaded Online;
Prizes are delivered 6-8 weeks after Promo Submission Deadline;
Offer not valid with other promotions.
QUALIFYING COVERS:
ACCESS® Limited
ACCESS® Original
ACCESS® Toolbox
ACCESS® LORADO®
LITERIDER®
VANISH®
and ACI® Roll-Up Cover
CLICK HERE FOR DETAILS AND DOWNLOADING PROMO FLYER AND REDEMPTION FORM!